Home Made Since 1990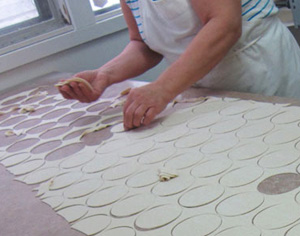 A-R Perogies offers over 20 different types of perogies including savory and sweet varieties. We also offer traditional Ukrainian and Mennonite foods, such as homestyle noodles, cabbage rolls and soups. Many customers find their favorite flavors that they purchase again and again. We have beet borsch, summa borsch, and cabbage borsch to enjoy as well. Want to add noodles to our soups or get some to go with our cabbage rolls? We have bags of those available.
All perogies are hand pinched, ensuring high quality in every bite. We have an advanced mixer to knead the dough along with other specialized equipment. We also offer custom orders and custom packaging to meet a variety of needs.
Testimonials

» Read what our customers are saying about us!
D. Craig
Phenomenal people, wonderful food. Our family goes to A and R Perogies for all our Ukrainian food cravings!
P. Winter
Very good frozen perogies. Lots of different varieties made in-house.
A. Murray
Great food, perogies, great people.